3 Things You Can Do Right Now To Rank High And Get More Students
If you have a website and it's not on page one of Google, here are three things you can do right now to improve your ranking and get more more students.
If you're not familiar with search engine optimization (SEO), let me get you up to speed first.
SEO is the process of maximizing the number of visitors to a particular website by ensuring that the site appears high on the list of results returned by a search engine such as Google.
For example, if you search for "piano lessons San Jose" on Google, it will give you a list of websites that meets that search term. What websites get to rank high is up to Google's discretion. Google uses a number of criteria to do so, but they all boil down to three areas: content, citation and backlinks. The higher a website scores on these areas, the higher Google will rank it.
Preferably, you want to rank not only on first page of Google, but one of the top three positions of first page. There's a joke in the SEO community that the best place to hide a dead body is page two of Google search results.
Jokes aside, the message is true. Searchers rarely go beyond page one to find the answer they're looking for. What kind of leads do you expect to have once you're on page one of Google? Take a look at the screenshot below and you'll see the breakdown of the expected click through rate (CTR) for the top 10 positions (first page) on Google: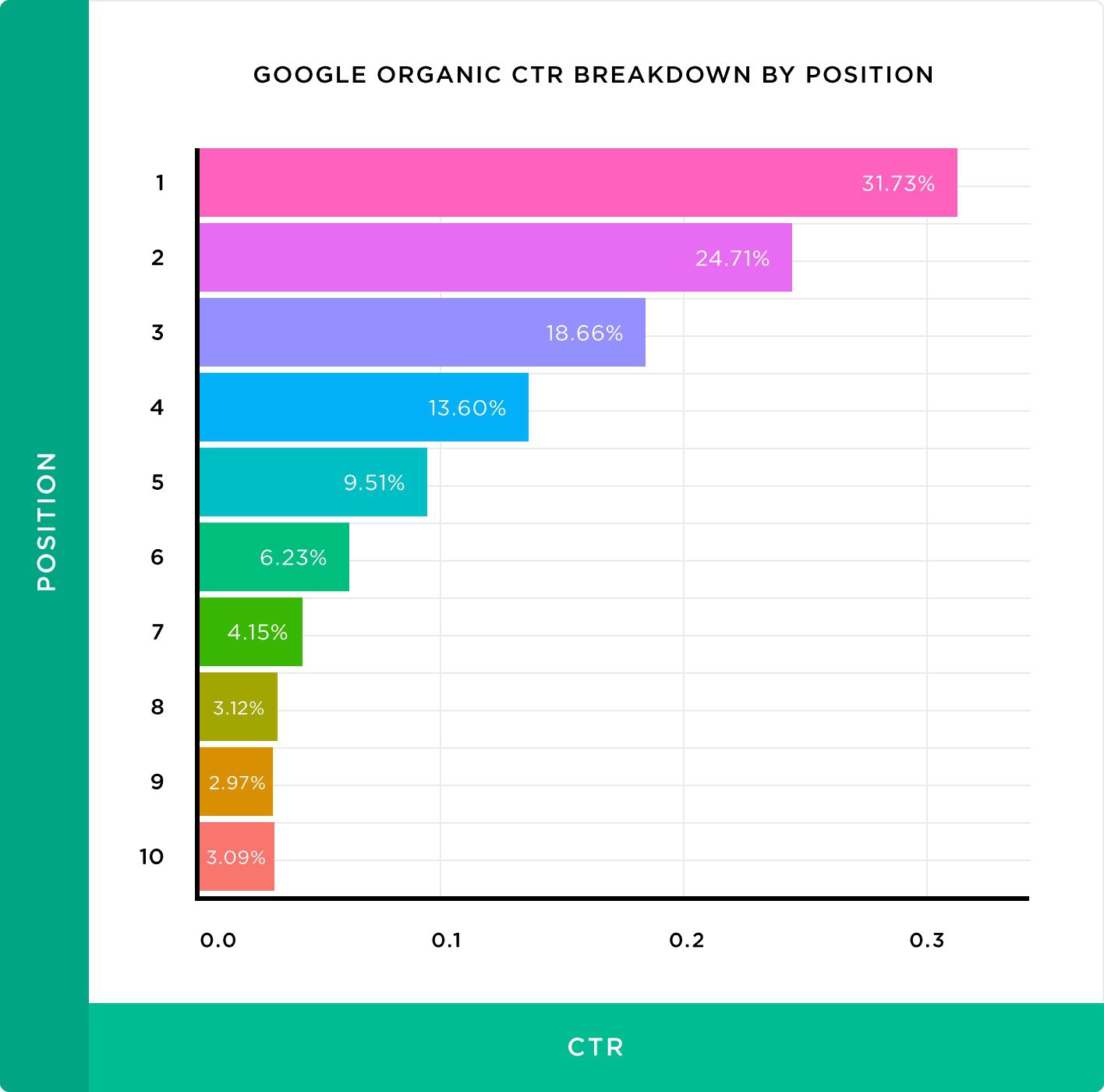 As you can see, the top three positions get the most number of leads - a total of 75% of them! The number one position gets about 10x more leads than the tenth position.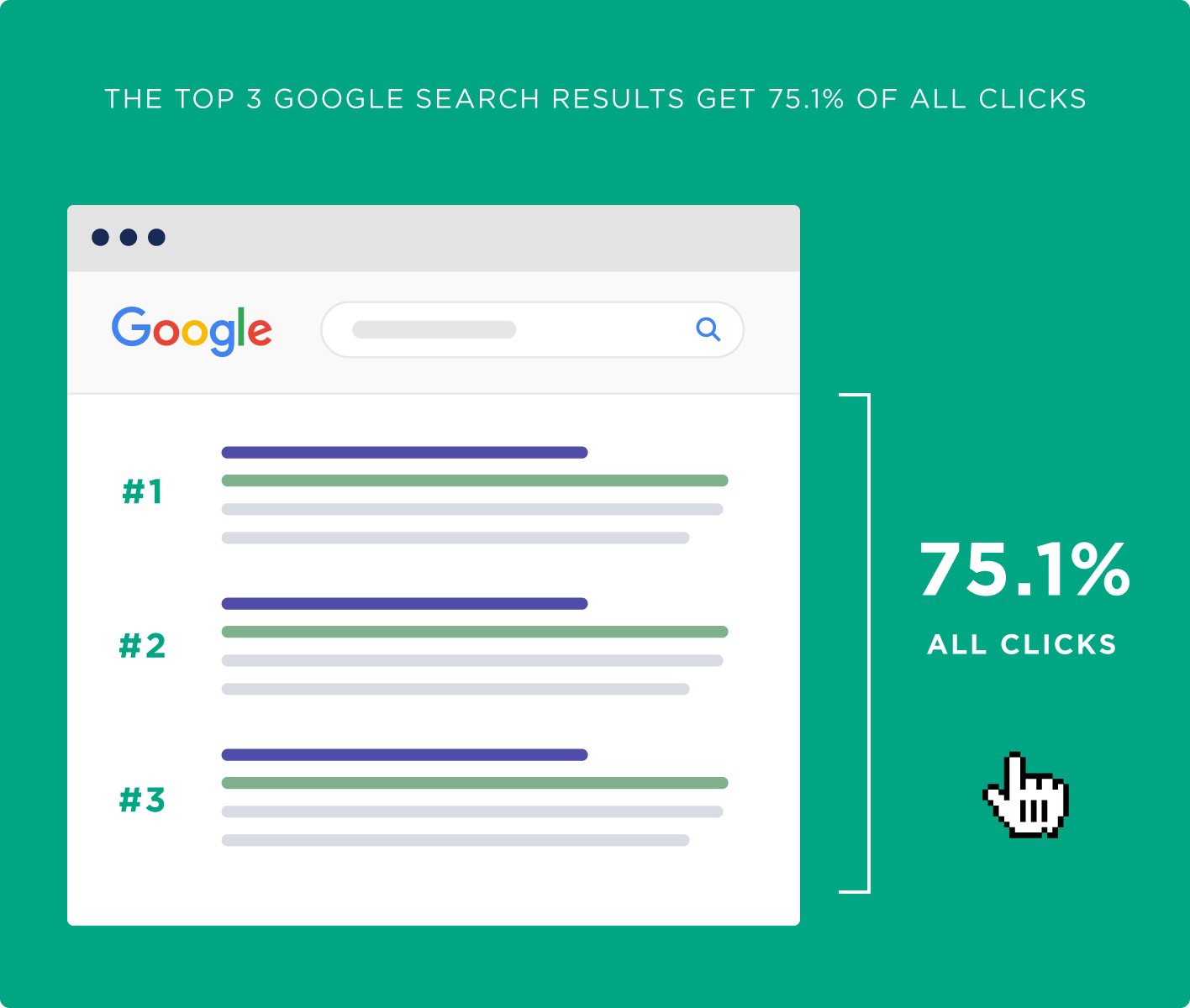 It makes sense to do everything you can to occupy one of the top three positions.
Let's now talk about the three things you can do right now to boost your ranking and get more leads from your website.
1. Content
Content is king, always has and always will, but not any content will do. Your content has to be optimized for search engines and relevant and useful to website visitors. Here's a general guideline you can follow to make your content optimized for Google and for your visitors.
1,000 word minimum. Your homepage should be the most important page and it should have a minimum of 1000 words or more. 1,000 is, in general, enough information for your visitors to know about what you do and therefore, they can make an informed decision to contact you. If you are in a less competitive area, you might get away with less than 1,000 words and still rank high. But in general try to aim for a minimum of 1,000 words.
Optimize one keyword only. For example, if you live in San Jose, California and you teach piano, your keyword might be "piano lessons San Jose." You may use variations, or synonyms such as "piano instruction San Jose" or "keyboard lessons San Jose", but the whole content has to be about just that: piano lessons in your local area.
Keyword density. Keyword density is the number of times your keyword is repeated throughout your content. For example, a 1% keyword density means that, on average, for every one hundred words of your content, your keyword is mentioned once. This lets Google know that your website is really about "piano lessons" and Google will view you favorably over your competitors' websites that have less keyword density. Until recently, it was common knowledge that Google weighted keyword density heavily. The general consensus was about 2%. This means that on average you should mention your keyword twice for every one hundred words. But now it's no longer the case. Things have changed and Google got smarter at evaluating websites. You still have to mention your keyword throughout your content, but it doesn't have to be 2%. You can have less than 2% keyword density and still rank high on Google. Here's a little hack for you: look at your number one competitor and find out how many times they use the keyword throughout their content. All you have to do to beat them on this is one up on them. If their website has the same keyword mentioned seven times, do eight or nine. No need to think about keyword density. Be careful not to go overboard or else you'll get penalized for keyword stuffing. You can do this easily by going to their website and press "Control F" on PC or "Command F" on Mac and type in "piano lessons San Jose" (edit to your instrument and local area) in the search box. It'll tell you the number of times that keyword is mentioned on that page. Now when you write your content, mention it one to two more than them. That's it!
2. Citations
When it comes to search engine optimization, a citation is when your name, address and phone number (NAP) are mentioned somewhere in the World Wide Web. It establishes trust and authority in Google's eyes. You want to have many citations. The more citations, the better.
How many citations do you really need? Again, enough to outdo your competitors. These citations are usually done on online directories such as bbb.org, yellowpages.com and foursquare.com, to name just a few. All you have to do is go their websites and fill out the information to get your business listed.
Be sure to be consistent with your name, address and phone number. Do a search online for "citations builder" to find out all the places you can do citations. The process can be tedious if you have to do many citations.
For your convenience I am attaching a PDF file of the top 50 citations in the USA. You're welcome to use it to build citations for your studio. If you don't have time and have a budget, you can get your citations done by outsourcing to places like upwork.com or fiverr.com for a reasonable fee.
3. Backlinks
When another website has a link that takes the visitor to your website, it's called a backlink. Think of backlinks as votes. The more votes you have, the better Google trusts you. The more trust you have, Google will reward you with higher ranking. Back linking is a very important ranking factor. Don't ignore this.
There are many ways to build backlinks, but one of the best ways is to do guest posting on other websites. You can do a search for "piano lessons + "guest blog" to find websites that accept guest blogging. Contact them and ask if you could do a guest post. Most blogs will allow you to have a link back to your website.
That's it. If you focus on these three areas, you'll see huge improvements for your website in terms of ranking and getting students.
If you want to learn more how to use the Internet to double or even triple your studio growth without burning yourself out, go to https://www.studiogrowthformula.com/15-minute and book a 15 minute call with me.
Written by Alex Nguyen, founder of Studio Growth Formula, the company which has helped music studios help more than double their income.