2 Most Popular Set Ups for Online Piano Lessons
Online piano lessons are trending towards the new norm, but how do you make sure you're getting the most out of them? One important aspect is making sure our teachers can see what we are doing and clearly hear our instruments. Unfortunately, most of us lack the fancy studio equipment to do so. Instead, we will have to rely on our smartphones, tablets, and laptops to capture the sights and sounds. Of course, some instruments are easier than others. Getting the perfect angle can be difficult however, with the piano. In this post, we will share two simple and cheap setups that our students typically use to foster an effective remote learning experience.
---
Two Device Setup (Front and Top Views)
The two device setup is ideal for virtual piano lessons. Place your first device where you keep your sheet music, in front of your face. This allows you to easily see the teacher/class and vice versa. The second device, preferably a smartphone, would go above the piano, giving an overhead view of the keys like this: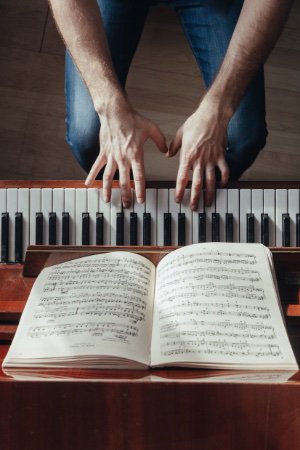 The parts you need for the two devices setup are:
1.Mic stand with boom
Really, any mic stand like this will work as long as the base is stable. If your phone has a heavy case, then you may need to add some weight to the base.
2.Mic to Camera mount adapter
This nifty adapter connects your mic stand with any camera or tripod adapter.
3.Camera holder
Attach this iPhone holder to the adapter above. Squeeze in your iPhone and you're ready to go!
If you have a newer phone that supports magsafe (which uses a magnet to hold the phone), then this holder is even better.
Assembly Tutorial:
---
One Device Setup (Side View)
The Two Device Setup provides a superior experience, but if you only have one device to use, you can use the side view set up. With this set up, the teacher can get a good view of you, your posture and your fingers on the keyboard at the same time. You will be able to turn to see your teacher and others in the class. Pictured below is the angle we are trying to achieve.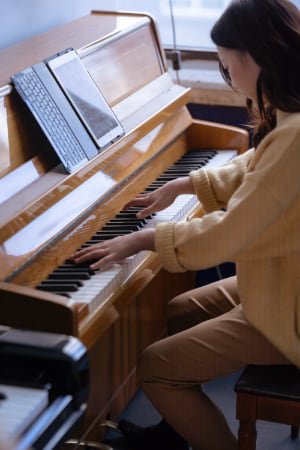 If you have no obvious places to set up your device, here are some good ways to achieve this view:
1. Mobile device tripod
For $20, these tripods work great at for taking family pictures and recording your piano lessons!
For $35, This gooseneck tripod gives you even more height and flexibility.
2. Music stand
Chances are, some of you have a music stand laying around. Stands are a great option for providing a place to prop up your mobile device or tablet. This stand pictured above works as a normal music stand but can also hold tablets and laptops!
3. A portable table
If you have a portable table around the house, set it up next to your piano and prop up your device with a weighty object.
---
These are the two most basic setups often used. For additional setup options that may be better suited for uprights or uses other equipment, please visit this page.
---
Looking good and sounding good are equally important. Here at Better Practice all of our students look and sound great. Sign up today to get your students on the path to greatness.